This line comprises particularly enticing delicacies:
---
Cuttlenfish ink, Sea Urchin Pulp, Fisherman's Cream and Tabarchino's Pesto
---
Ideal as condiments on Gourmet dishes.
CUTTLENFISH INK

Le Mareviglie's Cuttlefish Ink is a deliciousl condiment and ingredient in seafood disches, rice, pasta and bread. Its distinctive colour, texture taste of the sea make our cuttlefish ink a unique ingredient for gourmet cooking. In times gone by, the ink was used to season cuttlefish in the absence of other seasoning condimentes, a common practice for fishermen, who enhanced the flavour of these tender molluscs by using an ingredient provided by nature. Today, this precious and tasty black ink is used as a natural food colouring and flavourig agent, with an intense taste and an iodised and savoury scent, much appreciated in different world cuisines and used in gourmet recipes to add a particular color and enhance the sea flavour of dishes.
Cuttlenfish ink
Delicate flavor with light taste of the sea e particular iodized scent e savory. Its color makes it a truly unique condiment.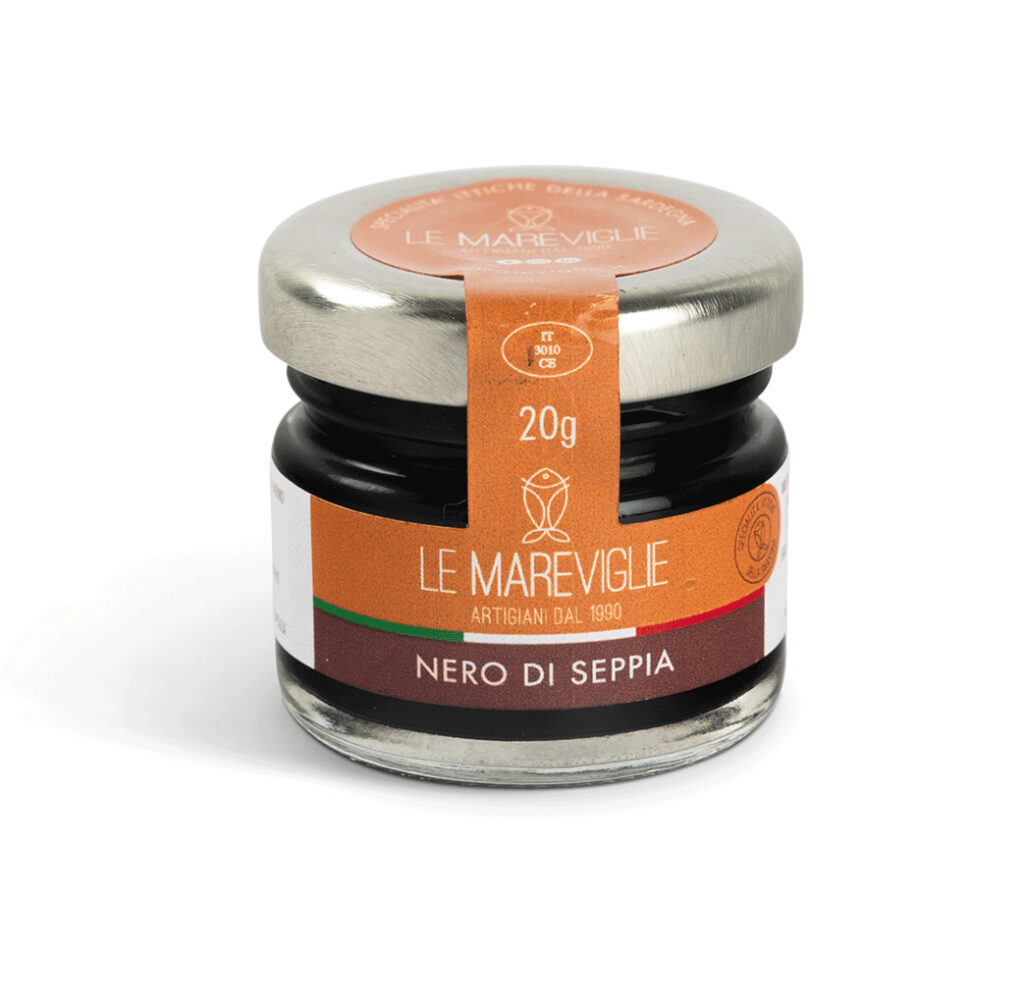 CHARACTERISTICS OF CUTTLENFISH INK
Ingredients:
Nero di seppia, acqua, sale, addensante: E415 gomma di xanthan..
Packaging
Glass jar: 20/90/190/500 g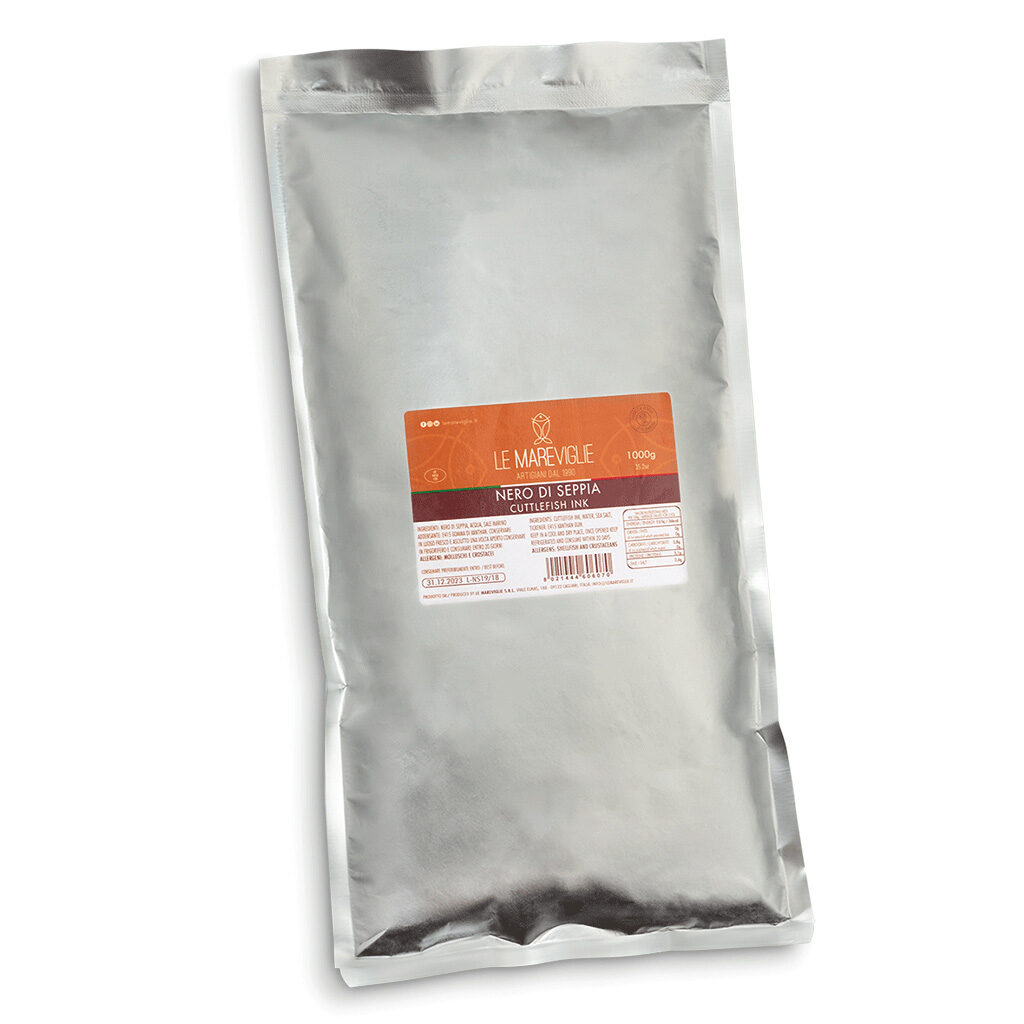 CHARACTERISTICS OF CUTTLENFISH INK
Ingredients:
Nero di seppia, acqua, sale, addensante: E415 gomma di xanthan..
Packaging
Bag: 1 kg/em>
SEA URCHIN PULP

The sea urchin pulp, symbol of quality of Le Mareviglie, is prepared using sea urchin roes collected between cliffs, rocks and seabed. It's one of the most sought after specialty by connoisseurs for the delicacy of its sea flavour, to create appetizers or simply to season pasta, pizza or canapés.
Sea Urchin Pulp
A soft pulp, with bright colors, its delicate taste recalls the taste of the sea.
CHARACTERISTICS OF SEA URCHIN PULP
Ingredients:
Sea urchin pulp, water, sea salt.
Packaging
Glass jar: 55/110 g
FISHERMAN'S CREAM AND TABARCHINO'S PESTO

The Fisherman's cream and Tabarchino's Pesto are traditional Sardinian seafood recipes based on Tuna and Swordfish. They are ideal for the preparation of genuine first courses and for the cold dressing canapés and bruschetta, heated and with the addition of a pinch of chilli pepper and fresh parsley as desired. Our seafood specialties are hand-made and processed in Sardinia, contain only selected raw materials and no preservatives.
The term "Tabarchino" derives from the history of Ligurian migrants who, around 1540, departed from Pegli and its surroundings to Tabarka, an island off the coast of Tunisia, on the border with Algeria, where coral fishing was practiced, and at that time still a Ligurian colony. In 1738, most of them moved from Tabarka to the inhabited San Pietro' island that the King of Sardinia, Carlo Emanuele III, intended to repopulate, and there they devoted themself to tuna fishing, the collection of coral and the production of sea salt.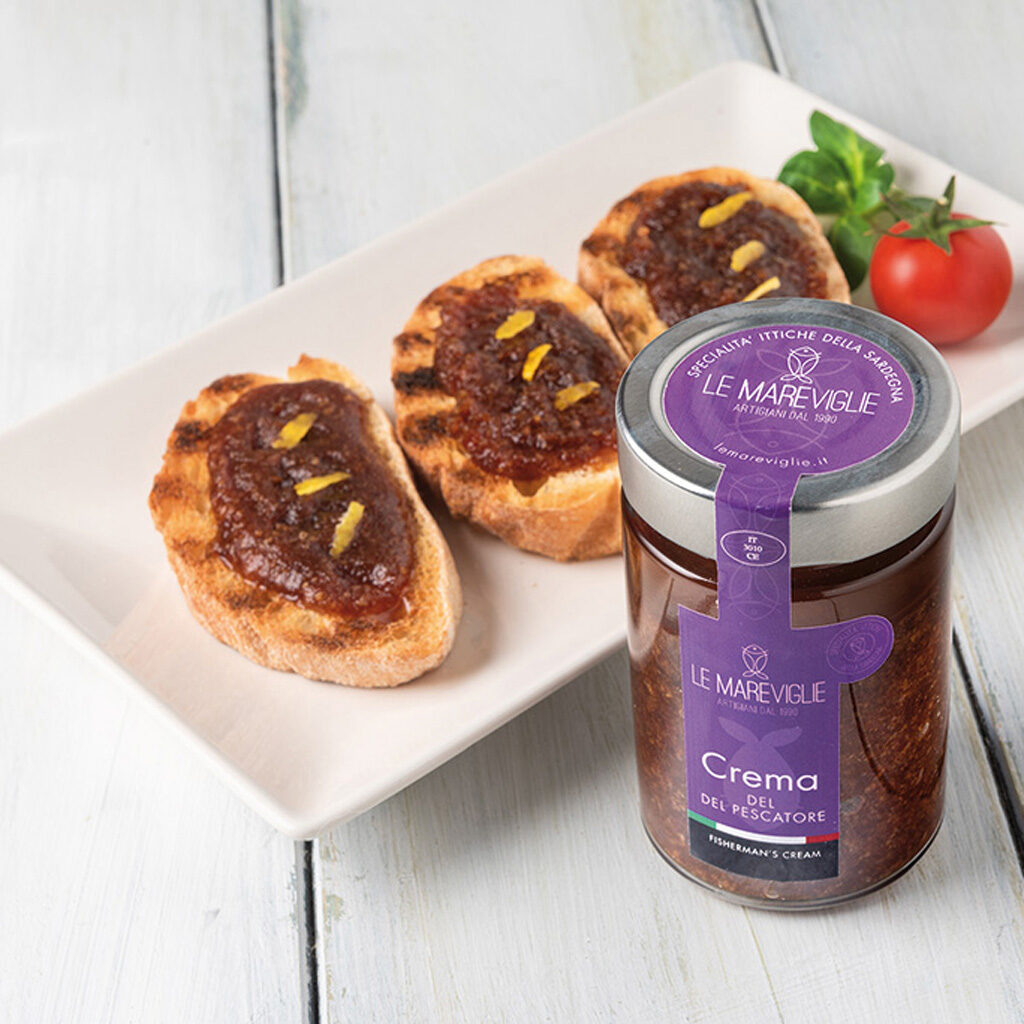 Fisherman's cream
With an Intense and balanced taste, it stands out for its particular fish flavor
CHARACTERISTICS OF FISHERMAN'S CREAM
Ingredients:
Sunflower seed oil, smoked marlin, yellowfin tuna and swordfish, water, sugar, soy lecithin, xanthan gum, black pepper, sea salt.
Packaging
Glass jar: 190 g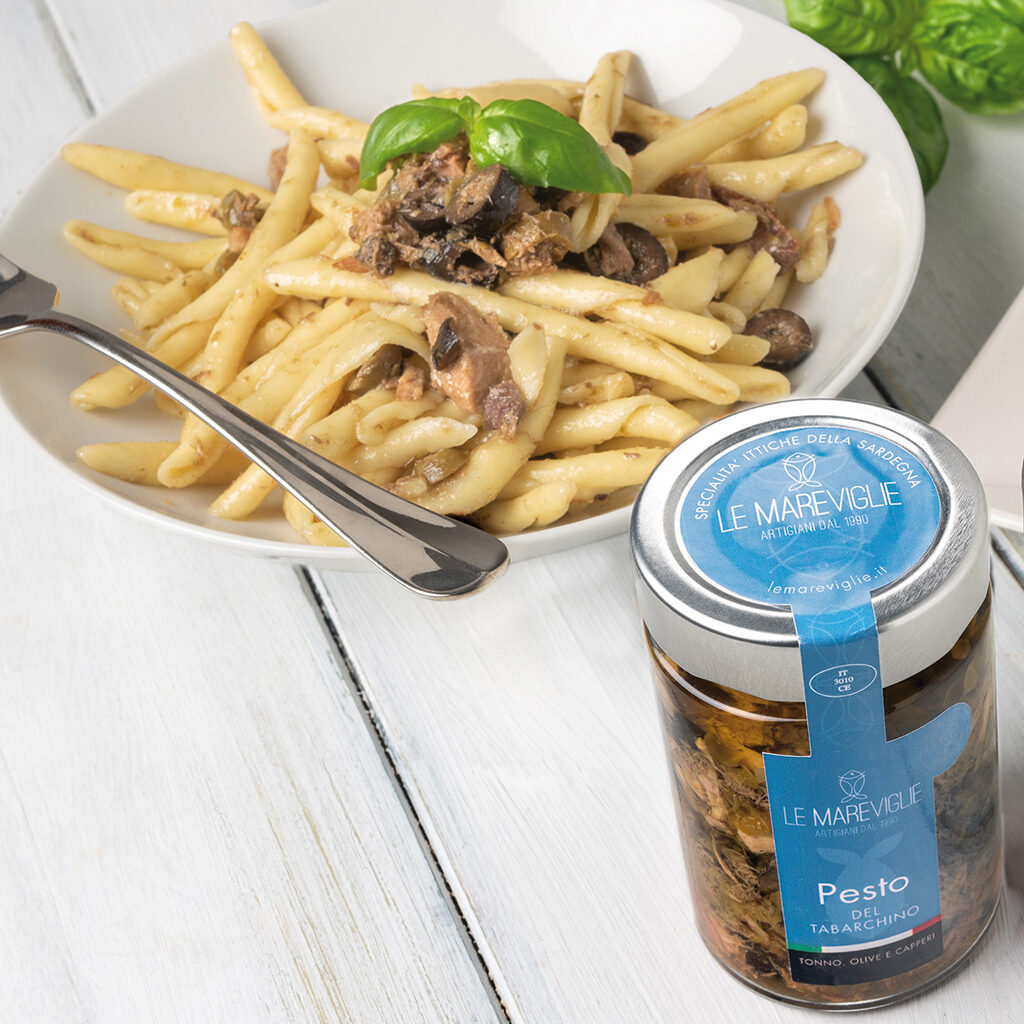 Tabarchino's Pesto
For the particular flavor of Tuna and seasoning with delicate olive oil e capers, is ideal for season special first courses.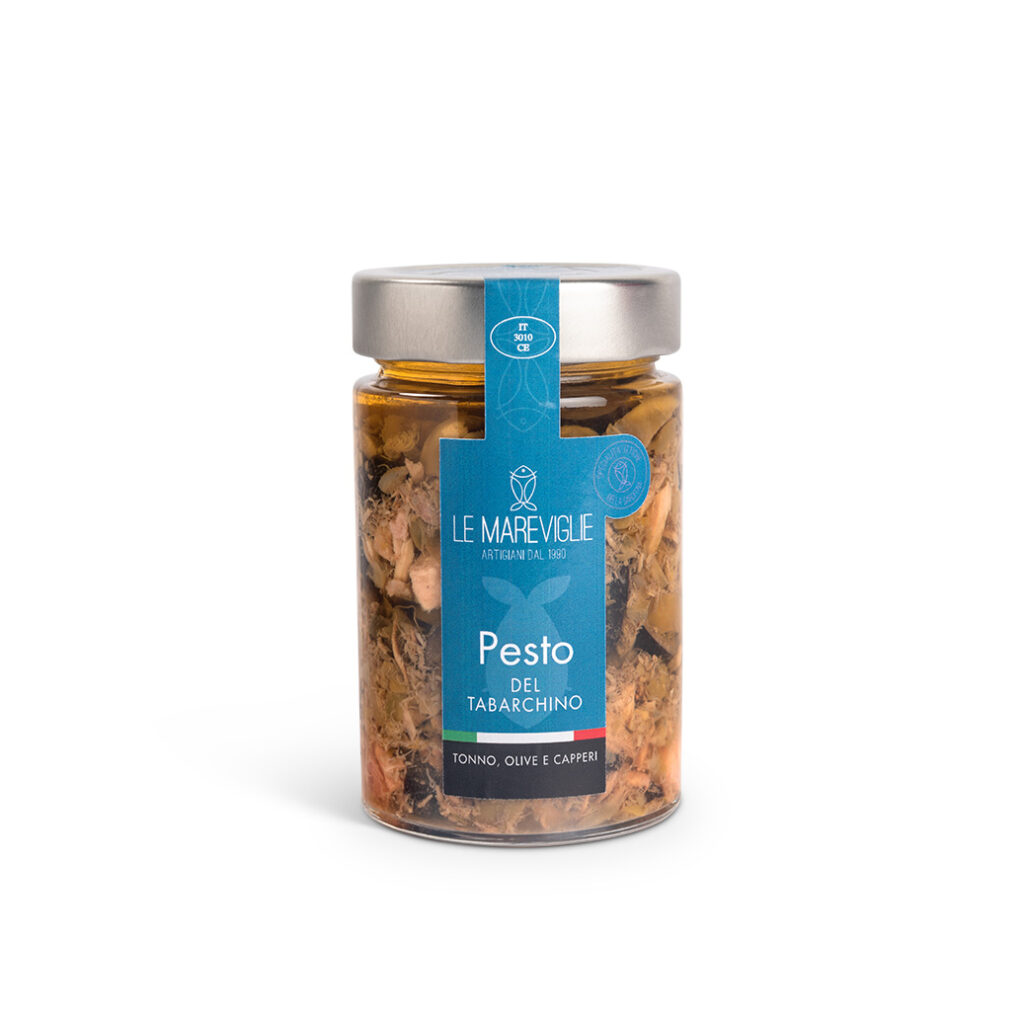 CHARACTERISTICS OF TABARCHINO'S PESTO
Ingredients:
Yellowfin tuna (thunnus albacares), olive oil, black and green olives, capers, salt.
Packaging
Glass jar: 190 g
With Le Mareviglie in the Kitchen Create new recipes for quick and gourmet dishes!